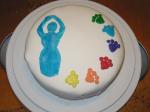 This is the cake that started the major caking obsession!
My dear friend Les asked me one day, on IM, if I might want to make a cake for her, and another mutual friend, Sue, for their birthdays - which are both in November. I was thrilled beyond what should have been reasonable. We should have known then!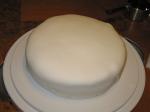 My only real direction was "no whipped cream, and Sue likes fondant." This was fantastic news, as I was really wanting to play with fondant!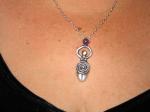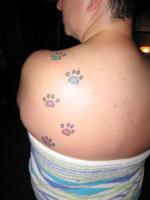 I wanted to decorate the cake with something that represented each of them. I chose the Goddess pendant that Sue usually wears, and Les's rainbow pawprint tattoo.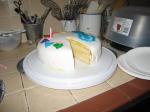 The cake itself was lemon, with lemon curd and buttercream inside. It was coated in buttercream, and covered in white marshmallow fondant.