I started teaching Wilton cake decorating in 2006, and on the first day of Course I, I demo how to ice a cake. Once that's done ... I still have a cake! We're a small family, so it was handy that Aidon and I had a soccer referee meeting the following night!
I refrosted the cake in referee yellow, put a few black pin stripes on, and made some red and yellow cards out of candy melts.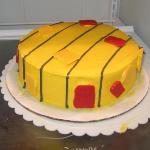 Simple, but kinda neat. It got eaten, in any case!
Click on any picture to see a larger version: