When my friends Mary and Casey decided to celebrate their tenth anniversary by getting married, I was more than honored to be asked if I was interested in doing their wedding cake. They gave me complete free reign on design, and flavors, too. Mary likes surprises!
I actually had a cake that I had seen a while ago, on the net, that was right up their alley, theme-wise. I was aiming a lot lower, but I wanted to represent all four seasons in a cake for them. This was the first really major cake undertaking I had done, and I severely underestimated the time it would take. By 4am the night before the wedding, I started a triage to figure out what I could do to make sure that the four seasons were represented on each cake - without doing a whole lot more than I already had!
Most of the photos on this page were taken by me, but some of the truly spectacular pictures of the final cake were taken by others. Many thanks to **find out who the pics are from** for allowing the inclusion of their pictures in this page!
**get menu picture
**get photo credits and links to flickr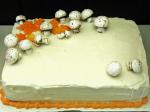 I selected four flavors for the cakes. Once I did that, I worried that there wouldn't be enough for the 6"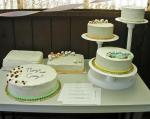 and 8" flavors, so I made auxilliary cakes for autumn and winter. So I made a total of six cakes. Thus started a tradition of completely overdoing it, when given half a chance.
I had not intended for the auxiliary cakes to be on display - so I didn't really worry about how they looked compared to the main cakes. It turned out there was really only one place for the cakes, so they were placed with the main cake. It's a good thing I put at least SOME decoration on them, even if they were a bit messy.
The bottom tier was Summer. This was a 14" chocolate cake with vanilla-mint buttercream frosting and mint-oreo buttercream filling. It was decorated with royal icing ladybugs and buttercream vines, and highlighted with a green accent border.
The next tier was Spring. This was a 12" lemon cake with lemon buttercream frosting and lemon curd filling. It was decorated with green fondant lily pads, chocolate rocks, and buttercream dragonflies. It was highlighted with a yellow accent border.
The next tier was Autumn, with its orange accent border. The cake was a warm spice cake with cream cheese frosting and filling. It was decorated with meringue mushrooms that looked so realistic, the little girl who normally eats meringue cookies until she's stopped wouldn't TOUCH them! It also had fondant autumn-colored leaves. It is my understanding that this is the cake that made it into the freezer for their first anniversary (since there was a large auxilliary cake to eat, instead.)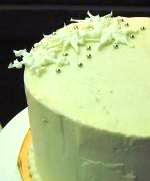 The final tier was, of course, Winter. It was vanilla cake with rasberry buttercream, raspberries, and wrapped in home made marzipan. Winter was decorated with royal icing snowflakes, and silver (banned in California!) dragees, and had a white accent border.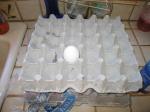 This many cakes requires a LOT of eggs! Our chickens were not yet quite up to the task of supplying me with enough for such an endeavor, so I bought two flats of eggs, totaling 60 eggs. That's what was left. I think I ended up using that one, too, later!
Fortunately, we can recycle eggshells - the chickens love them, and it gives them the calcium they need for producing strong eggshells. Very little organic waste gets thrown out in our kitchen - most everything either goes into the stock bucket in the freezer, or into the chicken bucket, and eventually the chickens!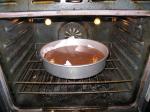 The chocolate cake was BIG! It really filled up my oven! You can see the parchment paper peeking over the sides. I'm not sure why I didn't form-fit it to the bottom like I usually do. Probably laziness. It worked, anyway!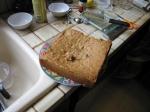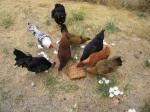 It was a good thing I was doing the baking a couple of days in advance, because I had two screw ups that required a complete re-do on a couple of the cakes. I forgot some ingredient with the first spice cake experiment (I was testing recipes.) I can't recall now if it was water or oil, but the cake was in the oven baking when I spotted the missing ingredient out on the counter. The chickens were very happy with it, though!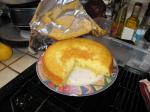 The second error was with the lemon cake. This wasn't an experiment, and I can't recall now what I did wrong - but I think it had something to do with doubling or tripling some part of the recipe, and not another. It came out VERY tasty, but WAY too light and spongy to hold up to filling etc. We kept this one for ourselves! Cooks need food, too! It was a light and fresh snack!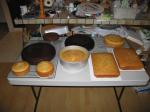 We had to pull out one of our larger, portable Costco tables just to hold all of the cake! That's a LOT of cake! Please note above re: overdoing it. Completely. And that's not even all of the cake!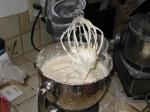 I had to make a LOT of buttercream frosting. This was just one of MANY double batches of frosting I made.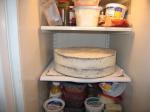 I filled the chocolate cake with a nice layer of mint oreo buttercream. I decided to play around with basketweave ... and then realized it was going to take me forever, and just frosted the thing! Well, crumb-coated. I locked in the crumbs with the first icing, and later coated it with another layer so it was smooth and white. We had to rearrange both fridges for this adventure. You can see the 14" cake barely fits into our main fridge! (You can also see how we jammed the fridge contents in other areas - please ignore!)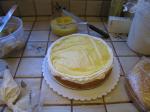 Any time I fill a cake with something squidgy, I put a dam of icing to keep it in the middle. Lemon curd is decidely squidgy! Tall cakes really look good, even when just crumb coated, I think!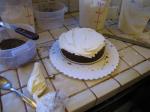 I filled the spice cakes with a lot of yummy cream cheese frosting.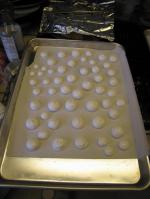 The meringue mushrooms came out SOOOOO cute! I adore them and would do them again given half an excuse! I got the recipe/instructions from **insert website** and followed them pretty much as they were written, although I may well have made meringue from my own recipe - I can't recall.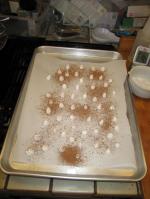 First I piped out the mushroom "caps" with a number 12 tip. These were just large dots of meringue in various sizes.
Then I piped out the "stems" with a smaller round-holed tip.
Finally, I sprinkled a small amount of cocoa over them, before baking, for that dusty, dirty look.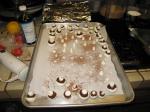 I then baked them as directed, being especially careful not to let them brown.
When they were completely cool, I melted a bit of chocolate, and spread that on the underside of the caps, and used that as glue for the stems. I found that poking a small hole in the bottom of the cap for the stems to lodge into helped them stay put. I squeed like a little girl at how cute these were!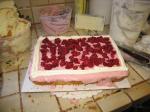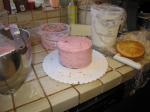 Because the top tier was going to be covered in marzipan, and then frosted, I didn't require a true crumb coat - only enough buttercream to help the marzipan to stick. I learned a lot about marzipan during this project, and certainly would do a lot of things differently on another cake! Anyway, the cakes still needed filling and frosting. Raspberries all the way! The fridge is starting to get FULL!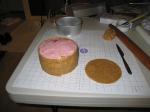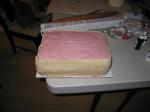 I actually used two different recipes for the home made marzipan. One was a lot darker than the other. One of the things that should have been obvious to me, even at this point, was how thinly-rolled marzipan doesn't really make a sturdy barrier against inside fillings. This made a BIG difference outside, in the middle of July. Ooops! The cakes were covered on the sides and tops with the marzipan.
I've started doing the final coating of icing, and the cakes are starting to look elegant. And the fridges are starting to look FULL!
Ladybugs were a known quantity - I had made them before. The leaves and lily pads were something I hadn't done, but weren't terribly difficult. The worst of it was how tired I was getting at the point at which the leaves were being made.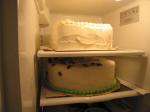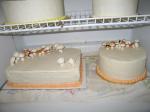 Once I was sure I had something to represent each season - I went to bed. I did the final assembly in the morning. The mushrooms and the royal icing decorations all needed to be kept out of the refrigerator for extended periods, so it was important not to do the final assembly until the day of the wedding. Once morning arrived, I started decorating each cake, and putting it back in the fridge as I went.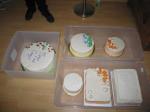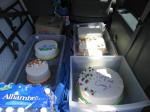 And then ... transportation! Aidon is my hero in SO many ways, but especially when it comes to these sorts of logistics! We managed to sticky-tape all of the cardboard bases to the bottoms of various plastic buckets. We staged them by the front door - with someone always on cat duty. And finally, they made it to the back of the van. Phew! I drove CAREFULLY to their house, and got a prime parking spot, so I could bring the cake in and set it up!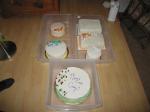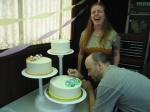 We brought it in, and set it up on what turned out to be a very expensive CHEAP styrofoam stand. It looked "okay" ... but ... I've since purchased something better. Sheesh! No sooner was it set up, than we found ... a CAT HAIR! Fortunately, Mary and Casey are animal lovers (it could just have easily been a dog hair from their house, and they'd have probably eaten it!) Aidon was called over, and a bit of surgery was performed! The bride found this more than a little funny, as you can see :) This is one of many reasons that so far, I only make cakes for people I love, and not for pay. I think most people expect their cakes relatively cat-hair free when they pay for them. Usually mine are - but ... there's simply no guarantee, really - I live with cats!
Click on any photo for a larger image: