When my son David was about to turn 13, we of course started to discuss his birthday cake. He couldn't quite decide, and then Aidon said something like "Hey, your soccer jersey number is 13, you could have a cake shaped like your jersey!"
Oh geez ... personally, I initially found this to be a rather uninspiring theme for a cake, but David got into it, so I decided to buy in too.
I actually really like how it came out!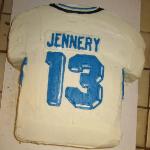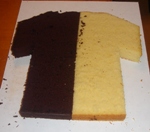 I started with two 12" square cakes - one vanilla, one chocolate. I cut each cake in half. Icut off the top of one of the halves (for each flavor) and trimmed the bits to make the right and left side of the shirt, respectively.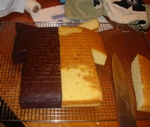 I took the other halves, and left the slight doming alone, since it lent itself to the shape of a shirt. I trimmed the neck and arms to match the other halves. I didn't manage to get a picture of the unfrosted cake beyond this.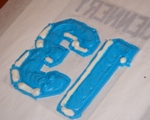 We actually scanned David's soccer jersey, and shrunk the image on the computer. Then Aidon fooled with it until he had the right size to fit on the cake. He printed it using "t-shirt transfer" mode, which made it come out mirror image. I then taped the printout on a cutting board, and taped a piece of parchment paper on top of it. I piped out the design in buttercream, and filled it in. Using the square tip REALLY made this look like his jersey! I then popped the whole thing into the freezer for about 15 minutes before putting it on the cake. This technique is often called "frozen buttercream transfer" and it is a GREAT way to transfer ANY design onto a cake!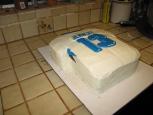 I piped a bit of blue on the sides of the cake, to match David's jersey.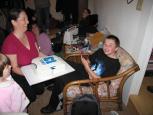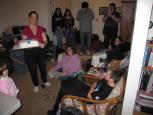 We were having a craft night so there was a decent sized crowd to sing Happy Birthday to David. That's really the whole point of cake decorating - celebration!
We VERY nearly started cutting the cake without taking the obvious picture! The cake with its likeness! I had young Miss Duckling hold up the shirt!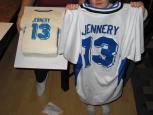 Click on any image for a larger picture: