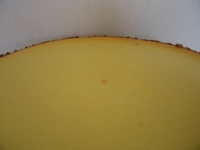 This recipe is one of my own, based on a few different recipes I've tried over the years. A special tip of the chef's hat to the fine folks at Cook's Illustrated who tested out a lot of different cooking methods, and gave me the trick that gives me perfect texture with no cracks, every time (I still worry about saying that and jinxing myself though!)
This recipe is specifically tested in a 10" springform pan, but I've made it in a 9" and 8" with slight modifications in either quantity or oven timing.
My husband LOVES graham cracker crust, so I usually quadruple the recipe I originally started with. That's right. Quadruple. It's great! If you're doing it in a 9" or 8", triple is probably about right if you want room for the cheesecake, too.
Base crust recipe - perfectly fine, but WAY too skinny for our family.
4 oz graham cracker crumbs (about 2 cups)
1/4 tsp fine sea salt
2 T sugar
2 oz unsalted butter (1/4 cup) melted
My crust recipe: (quadruple ratio)
16 oz of cookie crumbs - usually 2/3 graham crackers and 1/3 vanilla wafers (about 8 cups)
1tsp salt
1/2 cup sugar
8 oz unsalted butter (1 cup/2 sticks) melted

Preheat oven to 350 degrees, and put the rack on the lower middle position.
Combine the crumbs, salt and sugar until well blended.
Pour the melted butter into the mixture and stir with a fork until well blended
Brush the bottom and sides of a springform pan with melted butter.
Pour the mixture into the springform pan and press most of the mixture down, until it is well compressed, and some of it up along the sides of the pan, about half way up, using your fingers or the flat bottom of a glass or measuring cup.
Bake for about 10 minutes. Remove and allow to cool.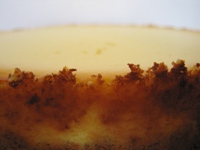 Cheesecake Custard recipe
2 1/2 lbs of cream cheese, at room temperature
1 3/4 cups + 2 T granulated sugar
1/8 tsp salt
1/3 cup sour cream
6 of our eggs (or 5 large eggs - or 4 large eggs and 2 yolks)
1 T vanilla extract
1 T lemon juice from one lemon
Directions:
Preheat oven to 500 degrees, and move the rack to the lower middle position.
In the bowl of an electric mixer, with the paddle attachment (if using a kitchenaid or similar) beat the cheese until smooth.
Scrape the bowl.
Add vanilla, salt, lemon juice, and sugar, mixing until combined.
Add the sour cream and mix until blended.
Scrape the bowl

Note: Get it smooth now! Scrape the bowl, scrape loose stuff off the beater(s) and beat it until it's smooth. Any lumps left in here when the eggs go in will be in the final cake!

Add eggs one or two at a time and mix at low/medium speed. Try not to overbeat once the eggs go in. Don't mix longer than a minute for each addition. Over beating the eggs can be a cause of cracks in the cake while/after baking.
Scrape between additions.
Pour into the springform pan and wait a minute for any air bubbles to rise. Pop any visible bubbles with a toothpick.
Place cheesecake in oven for 10 minutes.
Without opening the door, turn oven down to 200 degrees and cook for another 90 minutes, or until an instant read thermometer in the center reads 150 degrees (90 minutes in my oven.) This is also one of the things that keeps the cake from cracking - the slower cooking.
Set the cake on a wire rack for 5 minutes.
Slide a sharp knife along the edge of the cheesecake, freeing it from the side of the springform pan. I like to open the springform pan and then close it back up, so I know it's really freed. Doing this also keeps the cake from cracking while it cools, and would otherwise pull away from the sides .
Allow to sit out for at least 3 hours (it is still cooking by residual heat - don't put it in the fridge yet!)
Refrigerate for a couple of hours, or overnight, for best texture.
Enjoy!